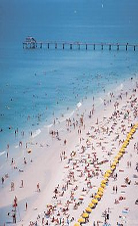 New for 2006!!
Clearwater Beach & Lunch.
Need to get away from the hectic theme parks? What better way
than a visit to the beautiful white sandy beaches of Clearwater.
Simply relax and unwind away from the hustle and bustle of
Orlando. Enjoy a picnic lunch directly on the beach!! Clearwater
Screamer is also available.
Clearwater Screamer!
Clearwater Beach day plus Awesome Speed boat ride. Come ride
the open waters on America's Largest Speed boat in the beautiful
Gulf of Mexico! An Awesome 1 Hour boat ride on the Sea
Screamer! Watch out for the wild dolphins that leap in and out of the
wake as you make your way up the coast. Then spend the afternoon
on the beach topping up your tan.

This fabulous trip includes Round Transportation & Beach Picnic
Lunch and is a one day excursion departing from Orlando Florida.
Departs: Monday + Wednesday
Duration: 1 Day
Click Here For:

(Clearwater Beach & Lunch Tour)
Adult Rate

Child Rate

Infant Rate

$65.00

$45.00

$2.00

(Upgrade to Clearwater Screamer)
Adult Rate

Child Rate

Infant Rate

$75.00

$55.00

$2.00

Call
0845 350 3483
or
07768 611 611
for reservations and booking information.